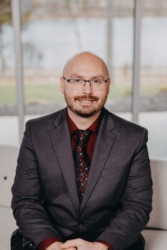 Brandon Miller is a St Charles native with 3 awesome kids, and (too many) cats. Brandon loves to run races, fish, hike, camp, and loves the outdoors.
Brandon has has a plethora of work experience with 15 years split up between residential Masonry, residential carpentry and residential pool and spa installation and maintenance before jumping into an industrial career. He was a foreman for an industrial insulation company for over 6 years, during which he acquired professional certificates in leadership, project management construction management and safety.
And currently Brandon is serving his community as a Real Estate Agent and absolutely loves it! Brandon is passionate about helping people find their dream home.
Besides real estate, Brandon's passions include animals and volunteering at Amazing Grace Animal Rescue, caring for and fostering cats, listening to music and attending concerts. And he loves Mondays!