Monique Gilbert
Associate Broker & Team Leader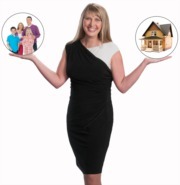 Connecting Buyers and Sellers together for the perfect match has been a passion for more than 15 years.

I began working in Real Estate during the "Great Recession" when a dedicated work ethic was a definite must to succeed; a time when deals didn't come easily, and clients were few. I remember my great broker saying, "Monique, if you work this hard once the market changes; you will be very successful". Every day was a learning process.

I can honestly say exemplifying integrity and developing real relationships have been my two biggest reasons for success. Diligently working on behalf of my clients, excelling in marketing & negotiations, and knowing my community helped me to become one of the top individual agents in the Great Lakes Bay Region several years in a row. I am so thankful and blessed!

That's what made this transformation so exciting. Your Real Estate Matchmaker has transformed into Team Matchmaker!

I've found the perfect agents to join my team in assisting you with your home purchase or sale. We work daily at improving our skills and tirelessly strive to put excellent service first; making your transaction as seamless and beneficial as possible. I am excited that I can spend every day connecting buyers & sellers for a perfect match AND help my team achieve their wildest dreams through real estate. It is quite a different role but I love the prospect of assisting them with coaching, training, and succeeding. They sure have made the office a fun (and little bit noisy) place to be!

The Team Matchmaker is educated, honest, hard working and we complement each other's skill sets. We have you covered from start to finish!

Come experience the difference with this awesome team of matchmakers. We truly will connect you or your home with a perfect match.